Commando Mindset: Where My Journey Began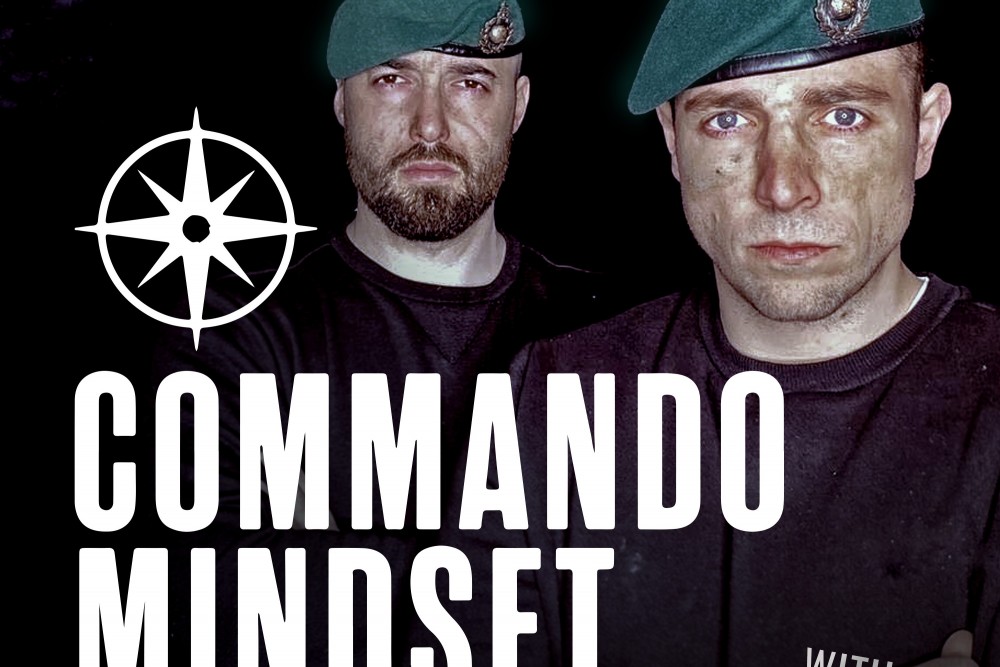 posted
30th
March
2020
Posted

4 years ago
By

Unknown
Back in January 2019 as I sat in the plush velvety chair of the Football Writer's Awards listening to Gary Lineker giving a charismatic and nothing short of perfect speech in honour of Gareth Southgate's success in the Russia World Cup
I kept glancing between Sport's greatest host on stage and Mr. Southgate himself, who was sat just one table away from me and humbly bowing his head and smiling as Lineker bathed him in well earned compliments. The two of them very used to big occasions and high pressure played their roles perfectly.

As Lineker finished and the audience rose from their seats in applause a man I didn't recognise cautiously stepped towards the side of stage.

In a room full of footballers and sports most recognised this guy drew my attention mostly because I had no idea who he was. Sharply suited yet not fitting in I thought to myself that it might be his lack of ego that made him unique in this powerful room.

As we all settled down I noticed a couple of people head to the bar having already judged this moment as not as pivotal as the last and he walked on stage.

Before introducing himself he mentioned his nerves and how Lineker had already used the classic waist coat joke so don't worry if you hear it again. I felt for him. I'd feel for anyone having to make a speech straight after Gary Lineker and I was glad that was not me.

Curious and turned in my chair to face the stage I was gripped by the words falling speedily out of his nervous mouth as I still hadn't been given a clear story of who he was or what his link to Southgate was. His speech didn't open with the blatant explanation I was after and I'd have to intently listen to find out he was A Royal Marine.

His name is Ben Williams. He spoke well considering and I was soon to discover that Ben had been suicidal after years of drug addiction and bad decisions.

After Lineker's light hearted jokes and jovial manner this was an uncomfortable change in tone.

I was still unsure how this deep story would link, if at all, to Southgate and I was starting to feel frustrated at my heart being wrenched from my chest almost by ambush at a football awards show.

Generally narcissistic by nature these events don't tend to push your emotions too far, I don't usually have to worry about whether my mascara was waterproof as I sat in a dress far too tight for me simply for the photos and stared gripped at the stage.

Ben's words hit me hard. My father, a victim of suicide, immediately enters my mind and here I am unexpectedly emotional that Ben didn't suffer the same fate.

His storytelling went from a nervous rushed start to an enthralling motivational talk as he began to find his pace, own the space and share what he had learned.

Ben Williams was in the industry of sharing, the link soon became apparent as he explains that post Marines he created a brand fixated on sharing the Commando Mindset that saved his life. Not only did this help those most in need but he found he could help build superior spirit amongst sports teams.

Teams like England's young squad.

Ben Williams spent time training the England team pre-Russia World Cup and Gareth Southgate credited him highly for the teams well known team spirit. Now not only did I know who he was but I had a deep respect for him, his work and his message.

I immediately googled Ben Williams Commando.

I found his Instagram and it blew my mind. Filled with inspirational quotes and messages it's exactly the type of profile I love. Real, raw and relatable there was no comparison between Ben and the standard 'inspirational speaker' Ben was different, Ben was just sharing his truth.

Ben also had barely any followers.

Confident that that would change after tonight, I felt a strong desire to amplify his message. Every word he said deserved to be heard and I wanted to learn more from him too.

I found myself in the bathroom wiping my tear smudged mascara and attempting to get a grip of my emotions. I didn't want this stark reminder of my father to send me back to crying endlessly in public toilets, instead this time I wanted to at least speak to Ben.

I didn't have the courage.

Instead I spent the evening on auto pilot small talking and taking photos whilst my mind raced.

It took a few days for me to find the courage to send Ben a message via Instagram and I needed an excuse to meet up. Thankfully I had the perfect excuse. Sugar Free Coffee with Layla is my interview style podcast where I sit down with intriguing people and talk about their journey. Ben immediately agreed to be a guest on my podcast.

The day we recorded I had goosebumps for hours. His message, his delivery, his tone, I knew how powerful and pivotal it could be. The right time and the right place and his words were life changing. Life saving. I just wanted more and more people to hear him.

Ben told me he was writing a book: COMMANDO MINDSET.

I was keen to read every page and immediately wished I could gift this book to my Dad.

That day Ben brought his business partner Anthony 'Thomo' Thompson and we had coffee. I discovered Thomo had his own powerful story having escaped the grip of a gambling addiction and earned his green beret. We all immediately clicked and Thomo made me feel part of an epic team looking to pass on positive empowering lessons - but I wasn't sure quite how I fitted in.

Two weeks later and I was inside the O2 arena at UFC London. I was cageside and live on BBC Radio 5 live as I watched a friend get punished in the octagon. A KO so brutal he was stone cold and his home crowd were silenced.

We had to keep talking and despite a strange ability to carry on as normal my mind was filled with worry. This guy isn't known for being the most stable character. This was a big KO and the repercussions on his mental health would undoubtedly be massive. The moment my shift ended I walked straight over to a friend in sports management "Is there anyone who's gonna call him in the week and support his mind through this?" I asked 'Oh I'm sure he has a good team around him' he said. Leaving me disappointed.

Immediately Ben and Thomo were bombarded with messages from me and another meeting was set up sharply. We made a plan to visit a few unconnected and well established MMA gyms where UFC fighters train and test whether the Commando Mindset teaching that worked so well with football's elite minds could fit into the unique world of MMA.

The Commandos would train alongside the fighters then sit on the mats and talk.

Just talk.

Soon it was in action and I found myself sat on the mats in awe once again as I watched a circle of fifteen men talking. It struck me when one lad explained how he's never done this before.

Men aren't known to talk.

Suicide rates in the UK are highest in Men aged 40. Here in this gym we had a group of men averaging at 28 and we could help reset their silent structure for problem solving well before they were at risk.

Strong, violent men talked about pain openly. With tears in their eyes they asked for help and that circle became sacred. I had never seen anything like it, I had never seen my Dad talk like this before and that very day I promised myself I would do more to help them.

Ben and Thomo were the friends I wish my Dad had.

The kind of guys that have your back, will tell you if your heading down the wrong road and will pick you up after if you decide to go down it anyway. They have a buddy system that's faultless and a positive spirit that's infectious. I'm proud to now call them my friends and I am equally proud of the podcast we have created in order to share their stories and structures for success.

Success is a mindset.
Strength is a mindset.
Confidence is a mindset.

That night as I was sat in a plush velvety chair at the Football Writers awards listening to Gary Lineker I had no idea that the man no one recognised at the side of the stage was about to change my thinking forever.

I had no idea that I harboured such deep desires to honour my father by learning and simply sharing a Commando Mindset.

I truly believe these lessons would have helped my Dad and I believe it can help us all. So, to coincide with the release of Ben William's book we have launched a podcast, and you can listen in your own time to episodes about values, adversity and health as we continue to do everything we can to share the Commando Mindset.